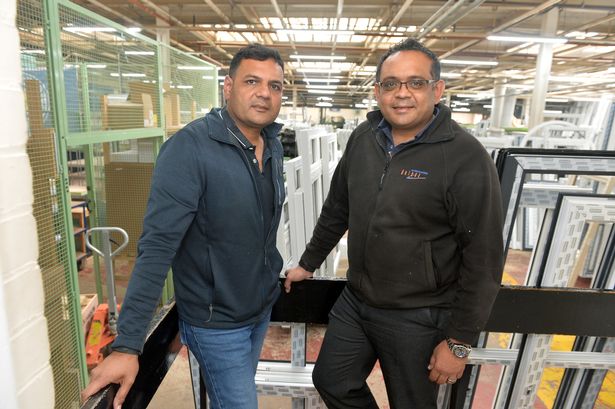 Unique has continued its sustained investment programme with a multi-million spend on its PVC-U manufacturing capability including the new timber-look platform from ProfteQ. Glass News reports…
Unique means business. It ended 2017 as it began it – with major investment in its manufacturing capability. It has followed the addition of a Graf Synergy SL4FF seamless corner welder at the start of 2017 with a £2.5 million spend on a suite of literally and metaphorically 'cutting-edge' PVC-U platforms at its close.
And that gives Unique not only new capacity but is allowing it to build on its existing commitment to quality, as its joint Managing Director, Sunil Patel explains. "We have seen very positive growth but we have worked very hard to make sure that that increase in volume has been accompanied by continuing increases in quality and offer.
"If you look at the PVC-U market, things are positive but you have to have the right product offer and the right quality and service if you're going to access the areas of opportunity that it offers – and that requires machinery investment."
Supplied by Promac Group at the start of 2017, the SL4FF from the now FOM-GS Group sits within this strategy. "We bought the SL4FF to support our manufacture of WarmCore. It offered so many advantages over mechanical manufacture of frames, delivering far better quality but also volume", explains Sunil.
Pre-cleaning to exacting tolerances, the SL4FF zip welds the corner joint whilst controlling the flow of sprue, delivering a seamless but incredibly strong corner joint. Sunil continues: "We manufacture multiple aluminium systems but WarmCore has been important to our growth, particularly where u-values are important."
INVESTMENT IN PVC-U
Unique has matched investment in its capability to manufacture aluminium and PVC-U hybrid products, with corresponding investment in PVC-U.
This has included a BDM Cutting and Machining Centre (Unique's second) with additional saw blade and end milling capabilities; three new Quad Welders; two SV800 corner cleaners and two six-head welders, which have been added to its Urban sash line to deliver a step change in capacity.
It has also added a Link-9045 two-head welder and miller with a SV530-C CMC Corner Cleaner; and the ProfteQ External Timber-Look machinery platform.
"We have a much bigger capacity", says Sunil. "Our production capability is up from 1,500 frames to 2,500 frames a week but it's not just about capacity, it's about reliability, sustainable growth – and ultimately the end quality to our customers", he continues.
CUT AND PREPPED SASHES IN AS LITTLE AS NINE SECONDS
The BDM FTB-100 EVO Cutting & Machining Centre is Promac's high volume cutting and machining platform. Pitched as a solution for volume fabrication (700-800 frames and up), it combines precision manufacture with rapid processing of profile using a unique eight-axis machining module. It uses two four-axis turrets with automatic and interchangeable 5mm and 8mm bits to machine the profile simultaneously along two sides and across eight axes, giving the machinery turrets 360◦ access to the profile.
This meeans that the FTB-100 delivers an incredibly high yield, producing a cut sash in as little as seven seconds and a prepped sash every nine seconds.
"The BDM gives a lot of new capacity", says Sunil "but also accuracy and precision. The addition of a second SV800 Corner Cleaner is also really important for us because, with our four and six-head welders, it gives us two-lines and with that a high degree of reliability and sustainability" he adds.
That Unique has the capacity to manufacture 2,500 frames on one-and-a-half shifts a day is impressive, something Sunil projects could easily jump to 3,000 frames a week by switching to two shifts.
The fact that 90% of its PVC-U machinery is now new is also indicative of the Leicester-based fabricator's confidence as to the direction of its own future.
NOT JUST ABOUT VOLUME – EXTERNAL TIMBER LOOK
Unique's investment programme has also extended to more specialised machinery platforms and through it, product offering.
"We manufacture in PVC-U in the Logik and Modus flush casement systems, from Eurocell, which we have offered as a standard 45◦ weld. With a 45◦ weld its resemblance to timber is great but being able to offer a traditional external timber look finish and 90◦  joint is an additional offering, which will support our customers further, allowing them to compete against products like R9", says Sunil.
Promac unveiled the ProfteQ machining and cutting centre and accompanying four or two-head welders at the FIT Show in May. It supports entry to high margin traditional timber-type PVC-U welds through just two primary machinery platforms, while delivering a high level of flexibility, for a comparatively minimal investment.
Part of the FOM-GS Group, this includes the flexibility to deliver a 90◦ weld externally or internally – or a standard 45◦  joint. It also utilises a highly flexible milling module with the capacity to switch between profiles without changing tooling and twin or quad welding options.
"We see timber-look windows as a key growth area, with demand from retail but also commercial markets because it delivers a traditional butt also a more contemporary style depending on the finish you apply to it", says Sunil.
PARTNERSHIP
Unique's relationship with Promac goes back to the company's very beginning, something which Sunil places significant value in. "The reason that we have and continue to work with Promac, is the strength of the expertise and the understanding of our business that Promac brings.
"We have worked with them for a long time, and they have been important in supporting our growth. This has included the supply and installation of a series of new machinery platforms that have allowed us to build capacity at the same time as improving product quality and the service that we can offer to our customers."